Meet Quirky.
Quirky connects inventors with investors with consumers.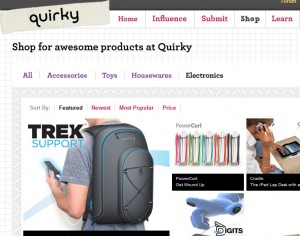 If you have a product that you want to produce – you can design it – price its development and sell it on this website. As a consumer, I can "invest" in the product by placing a pre-order – if enough pre-orders are placed, the product is built and shipped.
Today, I placed my first preorder for the Trek Support backpack – a TSA friendly backpack with a built in battery for all my tech tools and a charger as well. I was order #69 out of the 1,200 buyers they need.
I'll let you know how it turns out…