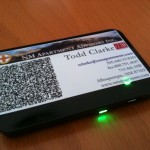 Recently I was asked by a good friend and fellow instructor, Mary Cypert, my thoughts on having the internet on demand while you travel.
I've moved entirely away from the aircards for a couple of reasons:
– 1 the device is locked into just one computer
– 2 the device requires a pretty clunky piece of software that is known to cause performance issues with the laptop
– 3 the fee's are a bit too much
Last year, I started working with Verizon's Mifi – it's a business card sized battery powered air card that doesn't require special software and it allows up to 5 devices to run at the same time –  although I am a diehard iPhone user (and lover), I have found that Verizon's network has the best coverage for high speed data – including within a couple hundred feet of my cabin.  The mifi charges off of USB port or from a wall wort and the battery has lasted me 4 to 6 hours.
If I had to buy anew, I would look long and hard at the Sprint 4G Overdrive – the big advantage for me is not the possible speed increase (currently limited to a dozen cities) but the fact that I could insert a 16 or 32 gig memory card and have a "shared harddrive" for all of the users to access.
Before you think about only buying another device that only serves up one computer, my mifi serves my laptop, my wife's laptop, our iPad, and both our iPhones while we travel, so having a device that serves up 5 internet connections is invaluable.
Geek.com and and Evdoinfo.com also have some great reviews and additional informtion on the mi-fi.