Lenovo Yoga Book – C930 – short tech review
by Todd Clarke CCIM CIPs
The Lenovo Yoga book has been a game changer – its uber portability, versality and feature set have made it my go to for the backup laptop – whether that is business meetings, traveling or teaching for CCIM.
My full video review can be found here – http://www.nmapartment.com/yogareview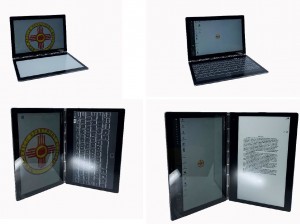 Ten Reasons to own this 2 in 1 :
Amazing keyboard doubles as e-ink reader
Slim and light – smaller than an iPad
Runs Windows 10
Has a Micro SD Slot – supports up to 512 gigs
Touch screen + e-ink screen – pull up a PDF on one side, and your powerpoint on the other – both support stylus
Relatively fast – 4 gig memory, 128 gig storage – works great for MS office, research tool, etc.
Works great as a backup computer, take to meetings computer,
Fingerprint reader for quick login
9. Versatile setup – use as laptop, tablet mode, tent mode and more
10. USB c Ports – easy dongles to HDMI, display port, etc. also charges from USB C
It was $1,299 to $1,400 when I bought it over a year ago – Lenovo shows it on their website for $859(http://www.nmapartment.com/yogabook)  and I have seen some deals on it for closer to $599.