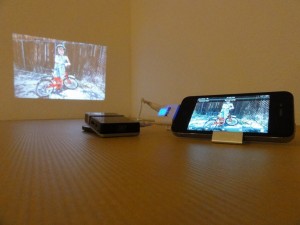 Optoma's Pico projector series (PK100-PK301) offers the iPhone, iPad and other smart phone users the ability to make an impromptu presentation.
Envision a projector that is about the same size and form factor as your iPhone and you have envision the Optoma Pico projector 100.
Although its low lumen count won't make it an ideal competitor for classrooms or conference rooms, it's battery powered projector is perfect for small board meetings or client
conferences. Its 4 oz weight and small form factor and long running rechargeable battery allows you to carry it around with you during the day and use it for an impromptu meeting.
Optoma includes all the cables, charger, and extra battery for hookup to your smart phone.
If you need something that hooks into your computer or with a higher lumen count, Optoma offers the PK 102, 201 and 301 models as well.
http://www.optomausa.com/productcategory.asp?productsubcat=26&productcategory=Pico Pocket Projector