2020 has been an odd year – and it has accelerated our future faster than most of us were ready for – and that includes moving meetings from the physical world to the Zoom world.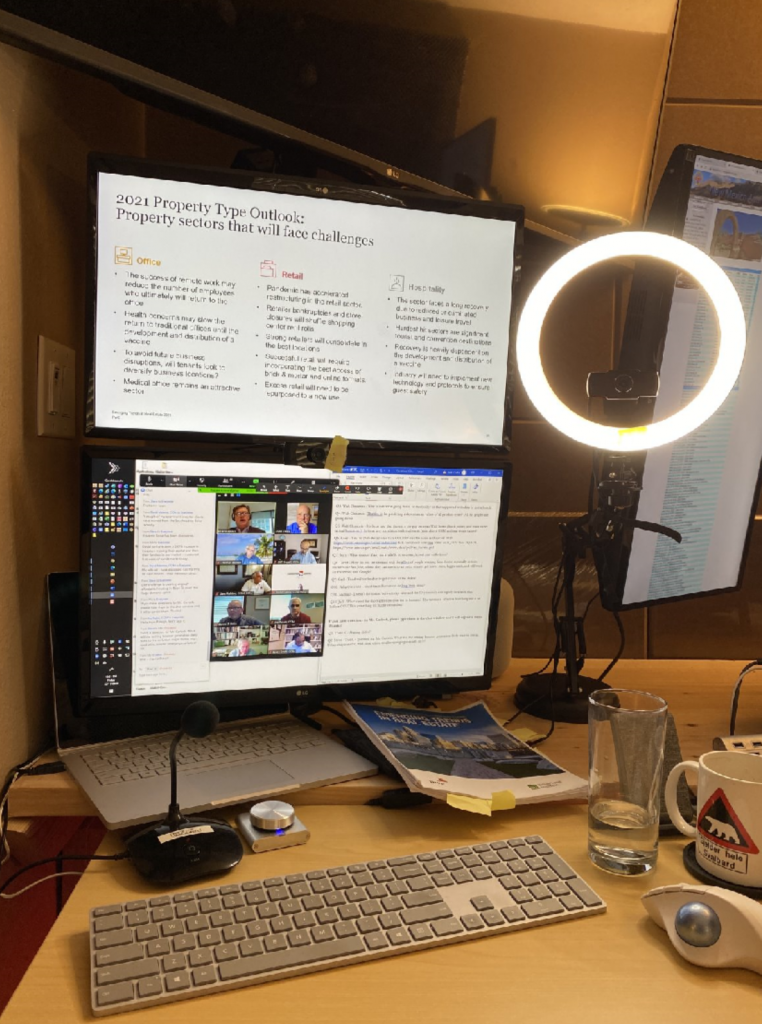 As we spend hour after hour in the zoom world, I have come to recognize a number of setups including:
Laptop with webcam in the crack between the bottom of the screen and the top of the keyboard – otherwise known as the nostril cam.
Laptop with poor webcam quality (that includes most Apple laptops) – otherwise known as fuzzy cam.
Laptop that stills has plastic film over the webcam – otherwise known as the blurry cam.
Desks with the owners back to a bright window – otherwise known as soon to be in the witness protection program silhouette.
And the list could go on and on an on.
Knowing this, I decided to design a portable zoom setup that I could use reliably for meetings. In order to come as possible to resembling a real meeting, it needed to cover the following items:
Good lighting so you could read facial expressions
A camera located approximately at eye level and was physically separate from my primary laptop (Macbook pro 16″) or my Zoom /teaching laptop (Microsoft Surface book2) or our conference room setup (Microsoft Surface 4).
Adjustability both in depth and height to take into account two person meetings (my wife and I had many parent teacher conferences or school meetings this way) or allowing me to stand
A dedicated microphone phone with a clear to read MUTE indicator
A dedicated volume knob
(and as it turns out, some sound insulation between my office and my wife's office )
I did some quick research on Amazon and chose the following items:
Webcam stand – $27.98 – envision the adjustable desk lamp you might of had in your childhood – without the lamp – it has a solid weighted base, but can also be removed if you want to put small holes at different distances in your desk.
Dedicated webcam – $29.88 – I wanted HD – so 1080 was minimum – and I wanted one that was adjustable.
LED Ring Light – 10″ – $19.79 – if you have watched any YouTube videos – you will notice the YouTubers have a ring light around their camera – this lights up your face and is adjustable as well.
Microphone stand with visual cue if mic was muted – $15.99 – this one has a big button on the front with a red light (that I put a sticker on to remind me that RED was Live, dark was MUTED). This has eliminated one of my largest frustrations with zoom meetings – when a speaker is speaking and they are not aware there mic was muted, or they are fumbling around in settings look for the unmute button
Volume Knob – $27.19 – For a long time I was using my Apple Airpods for Zoom meetings, but when I moved to the microphone and after waring our 3 sets of Airpods – I realized I needed a dedicated volume knob.
Sound paneling – $23.99 for 6 pack that is 12″x12″x0.4″ – this has worked really well – my daughter and I installed them from desk top to ceiling in my office – not only has it improved the acoustics and eliminated the odd echo I experienced on phone calls, it has done an amazing job of blocking my sometimes loud teaching voice. My wife has her office down the hallway – maybe 15′ from mine – and this has virtually eliminated any sound transmission.
Some miscellaneous velcro, or 3M double sided tape.
For $150 to $250 (depending on how much acoustical sound paneling your office needs) – you can setup your own Zoom studio.
PS: I am a big believer in always having a sperate zoom computer for meetings because:
Zoom is a resource hog and I have watched it melt down a laptop doing too many other things at the same time
Zoom constantly reorganizes all of my carefully laid out windows
If you screen share, you do not really want to screen share work you are doing for other clients
When I just need to listen in on a zoom meeting, I can roll my desk chair about 24″ to the right, and be on my primary computer getting work done.
Speaking of that – I would add a 2nd HD webcam to your setup – my 2nd cam is not on the stand, but is located between the two monitors (for better eye contact) and I can switch to that setup when I have moved computers as it looks like I am still engaged on the original zoom meeting.
One more thoughts – next time you are in a zoom meeting – do a quick screen shot of your live photo – I do mine looking thoughtful – and then post it as my avatar – so I if need to leave the room to answer the door, make tea, etc. It is not disruptive to the attendees.