No, I don't mean the ability for your Kindle to share its books with other Kindles.
What I am speaking of is the feature in Kindle that allows you to highlight some text then hit two keys to have that highlight and your comments pushed to Facebook and Twitter.
Previously, I used Kindles clipping menu, then I had to hook the Kindle into my laptop, copy the file, login in to Facebook and Twitter and post – an easy 10 minutes has now been saved – thank you Amazon!
This is what the post looks like in Facebook:


This is what the post looks like in Twitter: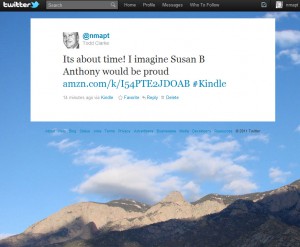 And this is what the results look like for the user: