In a continual quest for the every elusive increase in productivity, I've taken to creating my own laptop cases for my use during the business day.
When I'm on the road, I've yet to find anything that offers the durability, portability and ease of use of my Tom Bihn Buzz Bag.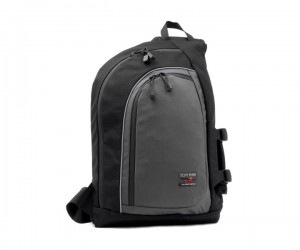 I have both sizes of the Tom Bihn Buzz Bag and I have traveled the world entrusting my electronic equipment to these bags.  It has a main compartment for a laptop, a secondary compartment for an iPad, Kindle, backup laptop, A/C adapters, cables and a zippered outer compartment for pens, pencils, keys, passport, as well as one across the chest and over the shoulder strap that has a pocket for my iPhone right over my heart.
Unfortunately, unless I'm looking for the Josh Liberman (a character from West Wing who lived carried suited up for work complete with his back pack), I've not found the backpack as compatible with the style of my day to day work.
Although briefcases are nice, I find I have a bad habit of just loading them down with stuff I don't need, so my ideal solution was something that wrapped my laptop, and allowed me to hold everything I needed in one hand, something that was transportable enough to walk through a property tour and toss down on a table ready to go.
My solution has evolved over the three iterations of laptops – my first the MacBook Pro (now up for sale), my MacBook Air and my new favorite machine, the MacBookPro 13" retina.
My ideal setup includes the ability to carry the following:
–          iPhone (sometimes its my main iPhone, and on some cases it's the backup iPhone which doubles as an Internet wifi access point)
–          iPad or iPad mini
–          Echo or Sky Smart Pen
–          Smart Pen Pad
–          Regular pen
–          A number of USB keys
–          Apple headset/headphones
–          Microsoft's flat mouse + Apple charging adapter or Kensington's portable trackball
–          1.5 terrabyte harddrive (holds iTunes music, movie and TV Collection)
–          USB micro cable, USB mini cable, USB to iPod cables for charging and syching
–          Business Cards
To accomplish this, I've either purchased Speck or (Leather case brand) cases both of which have a nice feel and a tight fit to the laptops.
I then modify the upper case (the one that attaches to the screen) – carefully laying out the cases to hold all of the items I need then super gluing them directly to the case (its highly recommend you not superglue them when the laptop is attached).
Round I modifications
My original guinea pig for laptop case design was the MacBookPro, a machine I had already customized by dumping its "super" optical drive for a 2nd terabyte of storage.  To this machine I added a Logitech iPad 1 case that was super glued to the Speck case allowing for easy access to my iPad.  I also added a slide in case holder for my iPhone 4s.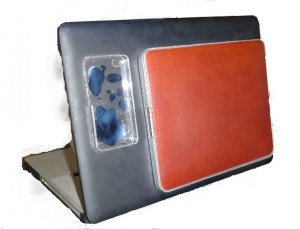 MacBook Pro Custom Case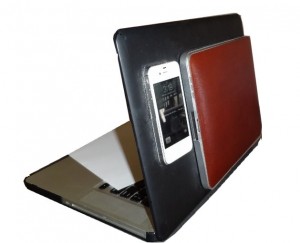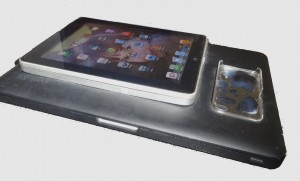 Although the case that I mounted on my MacBookPro was for the 1st generation iPad, as you can see here, the 2nd/3rd generation iPad fits in just fine.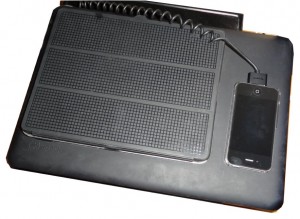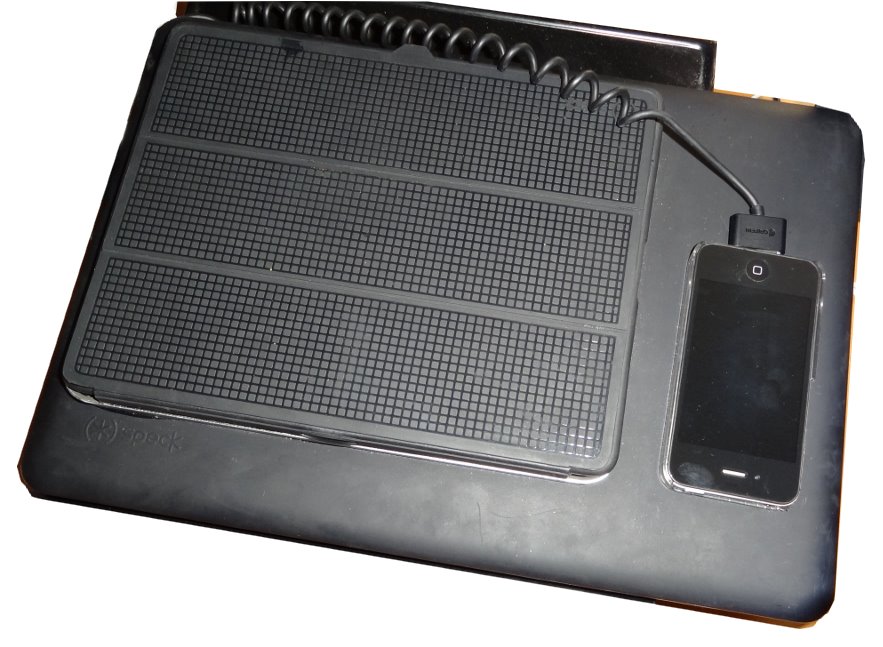 This is what it looks like with everything on: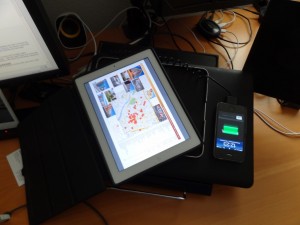 Round II modifications
For my MacBook air, I used the (leather case) and found the exterior portion of that case allows for easy modification and the ability to run cables underneath the leather exterior.  This has allowed me to hookup a USB hub that runs the iPhone and a cordless trackball from one USB port.
This version was the 2nd iteration for my MacbookAir.  Noticed the streamlined setup made possible by one large pocket that zips.  This iPad case swings out when the laptop is open allowing the iPad to be run as a 2nd monitor (using MaxiVista or iDisplay) for the laptop.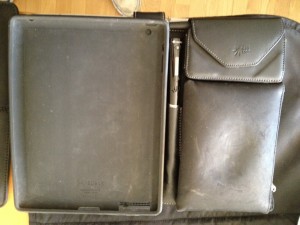 This photo shows what it looks like in use (happens to be from our Europe trip so its a good shot of my mobile office).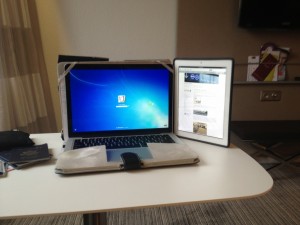 Round III modifications
My latest modification is the MacBook Pro 13" with Retina display.  I have added a number of features over previous modifications including the ability to "attach" an iPad and an iPad Mini to either side.  So if my desk on the road is big enough, I can run iDisplay (or MaxiVista) and have the iPad  double as a 2nd screen.
| | |
| --- | --- |
| | |
| Notice how the "smart cases" have been modified to hold an iPad? | USB and cable storage happens here |
| A discard in the Staples discounted bin turned into a cool looking business card holder | |
While the new case increase the weight of the MacBookPro by just over 1 pound, and adds another 1" to the overall thickness of the svelte machine.  I'm sure the ever astute design guru, Steve Jobs, would turn over in his grave to see what I've done to his prized machine, I personally find my new office setup makes me extremely efficient and effective in any meeting.
This is the latest version of what is mounted on my new 13″ new Macbook Retina laptop.  It has room for my iPad mini, my trackball, business cards, harddrive, iPhone 5, headphones, USB keys, and miscellaneous cables and cords.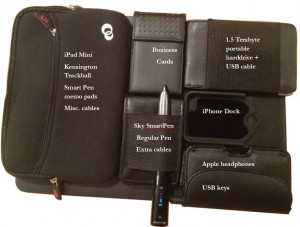 and this is what it looks like with out the labeling.