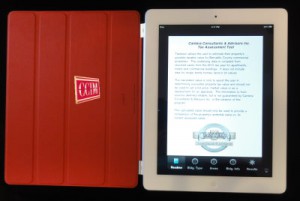 Would you like to win a new iPad2 with red leather cover (notice the CCIM logo?)
Correctly answers the first 10 questions on our social networking quiz and give us some feedback on the next 4 questions at:
www.canteraconsultants.com/scavengerhunt
Good luck!
This marketing effort will be used to gauge the effectiveness of social networking in the marketing of the CCIM Technology and Social Networking course http://www.ccim.com/education/course/TSN/TSN0001 .