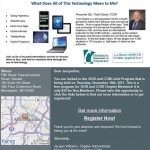 Thanks to the MN/Dakotas CCIM chapter and SOIR for a fabulous turnout and a great session!
The list of must have iPad apps can be found here.
and the article I wrote on iPad apps can be found in the Journal of Property Management.
You can also always search our blog for iPad or Apps for the latest news.
and I've uploaded yesterday's powerpoint here MN-CCIM-SIOR-Tech-SocialNetworkingWebinar-11102011.
If you have interest in taking our tech session a bit further and using social networking -click here to watch our Prezi.